YASMINE HUGONNET (CH)
LA RONDE / QUATUOR
25 settembre h 20.30 | Fabbricone
biglietto / ticket 10,00 € (rid. 7,00 €)
durata / time 50'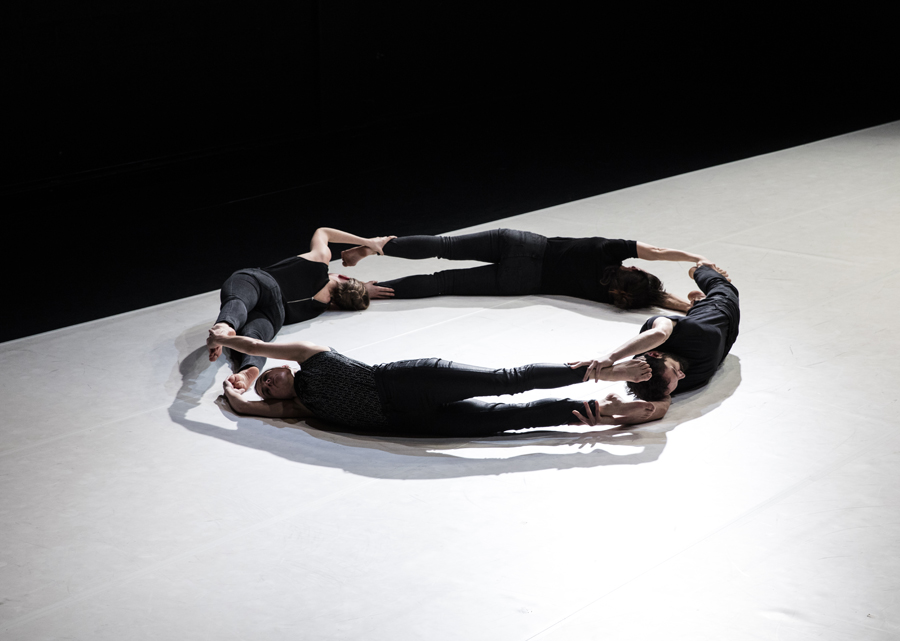 concept e coreografia / concept and choregraphy Yasmine Hugonnet
danza / dance Jeanne Colin, Audrey Gaisan Doncel, Yasmine Hugonnet, Killian Madeleine
luci / light Dominique Dardant
costumi / costumes Tania d'Ambrogio
saluti e ringraziamenti / regards and thanks Ruth Childs
ospite / guest Mathieu Bouvier
distribuzione / distribution Jérôme Pique
amministrazione e produzione / administration and production Valentine Lugrin, Marianne Caplan
produzione / production Arts Mouvementés
coproduzione / co-production Théâtre Sévelin 36 Lausanne, Rencontres chorégraphiques internationales de Seine-Saint-Denis
residenza di creazione e partner / creation and partner residence Mains d'OEuvres St-Ouen
residenza di creazione / creatione residence Théâtre Sévelin 36 Lausanne
ringraziamenti / Thanks to Studio Briqueterie du Val de Marne, Centre National de la Danse Pantin, Centre culturel suisse de Paris, Arsenic - Centre d'Art scénique contemporain
con il sostegno di / supported by Ville de Lausanne, Canton de Vaud, La Loterie Romande, Bourse de la Société Suisse des Auteurs pour la Création Chorégraphique, Pro Helvetia - Fondation suisse, Fondation Ernst Göhner, Fondation Nestlé pour l'Art.
foto / photo anne-laure Lechat
Una danza tonda con quattro corpi. Quattro danzatori che connettono attraverso gesti reciproci e ricambiati. Una danza tonda con visi, spalle e movimenti che girano su se stessi come una linea del tempo su un vaso. Una danza tonda è lo spazio che serve al tempo per trasformare un danzatore in quello seguente. Ognuno si dispiega nel prossimo seguendo una danza condivisa attorno a un vuoto di memoria.
A round dance with four bodies. Four dancers who link through reciprocal and reverting gestures. A round dance with faces, backs and movements spinning like a timeline on a vase. A round dance is the space that time needs to transform one dancer into the next. Each one unfurls into the next following a shared dance around a lapse of memory.