MARCO D'AGOSTIN | CHIARA BERSANI
PROVE APERTE PER LA CERIMONIA DI APERTURA DI EVERYTHING IS OK
24 settembre h 22.00 | Spazio K
biglietto / ticket 7,00 € (rid. 5,00 €)
durata / time 10' (Prove aperte per la Cerimonia d'Apertura di Everything is ok) + 34' (Everything is ok)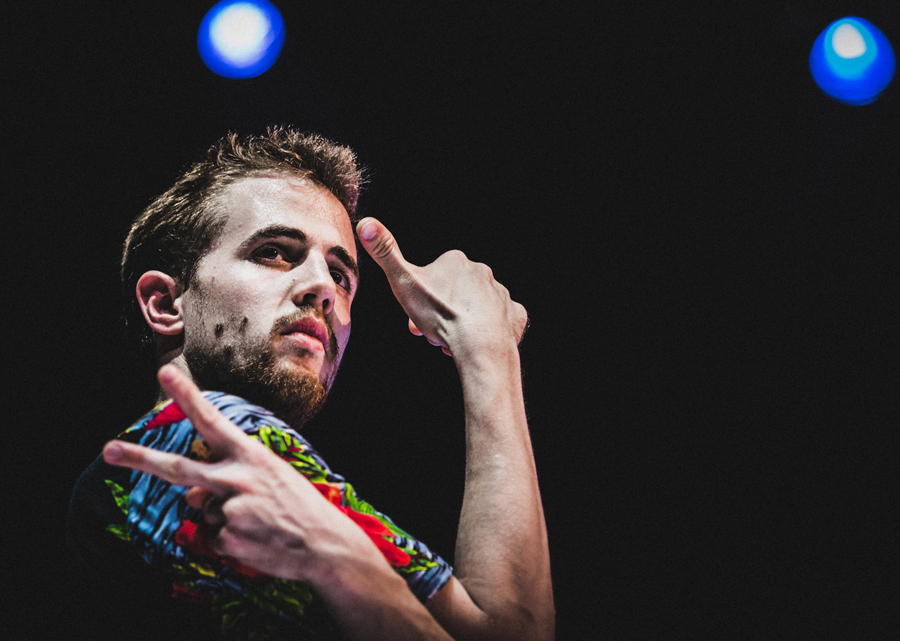 In occasione di Contemporanea 2016, Marco D'Agostin e Chiara Bersani presentano un evento inedito, le Prove Aperte per la Cerimonia d'Apertura di Everything is ok.
Prima tappa di un percorso di ricerca sulle Olimpiadi che condurrà alla produzione del loro nuovo spettacolo (The Olympic Games, coprodotto da K3/Kampnagel in Amburgo e BeSpectACTive - progetto europeo,) che debutterà nella primavera del 2017, le Prove Aperte si interrogano sulla creazione dell'aspettativa, sulla mobilitazione dei corpi, sull'apparizione della star.
In occasion of Contemporanea 2106, Marco D'Agostin and Chiara Bersani present an inedit event, the Prove Aperte per la Cerimonia d'Apertura of Everything is ok.
First step of a research itinerary about the Olimpic games, that will conduct until the production of their new performance (The Olympic Games, coproduced by K3/Kampnagel in Amburgo and BeSpectACTive - European project) that will debut on spring 2017, the Prove Aperte interrogates on the creation of expectation, on the bodies mobilization, on the star appearance.
a seguire
MARCO D'AGOSTIN
EVERYTHING IS OK

un progetto di e con/a project by and with Marco D'Agostin
suono/ sound LSKA
disegno luci/ light design Rocco Giansante
movement coach/ coach del movimento Marta Ciappina
consulenza drammaturgica/ dramaturgic consulence Kristin De Groot
direzione tecnica/ techinical direction Paolo Tizianel
foto e video/ photo and video Alice Brazzit
una coproduzione/ a co-production VAN, CSC/Operaestate Festival Veneto & Dansateliers
con il supporto di/ supported by inTeatro, Kilowatt Festival, D.ID Dance Identity, C.L.A.P.Spettacolo dal vivo, Teatro Fondamenta Nuove foto / photo Alice Brazzit
Da una parte il performer, che attraversa una catena ininterrotta di movimenti, segni, posture e dinamiche che richiamano il vasto territorio dell'intrattenimento, attraversato anarchicamente dalle sue origini ad oggi; dall'altra il pubblico, sottoposto a un bombardamento d'immagini che ne vuole testare il limite di sazietà, il personale ma inevitabile tracollo, il momento in cui si renderà necessaria la resa, in cui lo sguardo si stancherà di guardare.
Su questo fragile terreno di abbandono si innesta la possibilità di un'apertura del paesaggio, di una lenta espansione dello sguardo, pronto forse ad accogliere quello che finora è stato invisibile: le genti, gli animali, i pianeti, le storie; fossili millenari, restituiti nella loro immobilità, che lasciano in consegna un ultimo compito a questo gruppo di occhi: cosa ci resta da guardare, ora, tutti assieme?
Everything is OK bombards the audience with an uninterrupted chain of movement. Marco D'Agostin's articulate, precise body is a container, throwing out images and postures recalled from the entertainment world. It's as if both dancer and audience are being tested - every movement is leading towards sweat-soaked exhaustion. When will our gaze get tired and surrender? For this crowd of tired eyes: what's left to see?