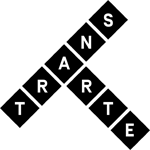 transARTE
Avviato dall'Institut français, il programma TransARTE promuove la circolazione e la promozione delle proposte artistiche che sfuggono alla logica dei generi codificati, dallo spettacolo dal vivo alle arti visive, dal cinema alla letteratura...
Concepito come un marchio, questo programma innovativo viene lanciato in Italia nell'autunno del 2012 e continuerà per tutto l'anno 2013 in America Latina.
L'Institut français è l'organismo del Ministero degli Esteri che si occupa delle attività culturali francesi all'estero.

The project TRANSARTE, launched by the Institut Francais, promotes the circulation of artistic proposals which escape the logic of codified genres, from live show to visual arts, from cinema to literature…
Conceived as a brand, this innovative program will be launched in Italy from Autumn 2012 and it will last until 2013 in Latin America.
The Institut Francais is the organism of Foreign Ministry which deals with French cultural activities abroad.
--------------------------------------------------------------------------------------------------------------------------------------------------------------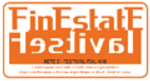 FINESTATE FESTIVAL La creazione contemporanea internazionale si identifica sempre di più con proposte artistiche che non rientrano nelle categorie canoniche dello spettacolo dal vivo ma che si pongono come trasversali e poco identificabili. Il network Finestate Festival, composto da B.motion/Operaestate Festival Veneto (Bassano), Short Theatre (Roma), Terni-Festival internazionale della creazione contemporanea e Contemporanea Festival (Prato), si propone di ragionare intorno a forme ibride dell'arte performativa, favorire la mobilità e circuitazione di artisti internazionali in Italia e viceversa, e facilitare la collaborazione tra artisti di provenienze e di ambiti diversi.

The international contemporary creation identifies itself with artistic proposals which can't be included in canonic categories of live shows, but they seem to be transversal and not much identifiable.
The network Finestate Festival, composed by B.Motion/Operaestate Festival Veneto (Bassano), Short Theatre (Roma), Terni-International Festival of contemporary creation and Contemporanea Festival (Prato), proposes reasoning about hybrid forms of performative art, promoting the mobility and circulation of international artists in Italy and vice versa, and facilitating the collaboration between artists from different origins and spheres.
--------------------------------------------------------------------------------------------------------------------------------------------------------------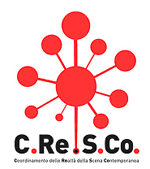 C.Re.S.Co.
Sostiene e promuove l'incontro C.Re.S.Co., Coordinamento delle Realtà della Scena Contemporanea, che, in sintonia con il pensiero di Claudio Morganti, ha avviato il Tavolo delle Idee, percorso di riflessione sul fare artistico e sul ruolo dell'artista all'interno della società contemporanea. Uno dei prossimi obiettivi del Tavolo delle idee sarà quello di condividere un Laboratorio permanente delle idee e delle pratiche della scena contemporanea, progetto che sarà definito con la seconda 'Giornata nazionale di C.Re.S.Co.' convocata per il 20 aprile 2013.
C.Re.S.Co. è nato a Bassano del Grappa (Vi) nel settembre 2010, dopo un periodo di lavoro informale iniziato a luglio 2009 ed ha oggi 100 iscritti.
Il suo obiettivo è mettere assieme gli operatori e gli artisti italiani della scena contemporanea e farli lavorare congiuntamente per costruire un progetto e una sensibilità che siano insieme poetici e politici, necessari per continuare a creare bellezza e pensiero ma anche funzionali alla difesa della dignità lavorativa di chi opera in questo settore, al recupero di un ruolo riconosciuto per gli artisti del contemporaneo nel contesto sociale nazionale, alla crescita complessiva dei linguaggi della ricerca e dell'innovazione. www.progettocresco.it

The meeting is supported by C.Re.S.Co., Coordinamento delle Realtà della Scena Contemporanea (Coordination of the Realities of the Contemporary Scene) that, in tune with Claudio Morganti's thought, started the Tavolo delle Idee (Table of Ideas), a path of reflection about making art and the role of an artist in contemporary society.
One of the next aims of Tavolo delle Idee will be the sharing of a Permanent Workshop of Ideas and practices of the contemporary scene, a project that will be defined with the 'Second International Day of C.Re.S.Co.', convoked on 20th April, 2013.
C.Re.S.Co. was born in Bassano del Grappa (VI) in September 2010, after an informal work begun in July 2009 and that now counts 100 members.
Its aim is combining the operators and Italian artists of contemporary scene, making them work together in order to build up a project and a sensibility, which should be both poetic and politic, indispensable to keep on creating beauty and thought, but they should also be functional to the defense of the working dignity of people who work in this sector in order to recover a recognized role for artists of contemporary scene in national social context, and at last they should be functional to total growth of the languages of research and innovation. www.progettocresco.it
--------------------------------------------------------------------------------------------------------------------------------------------------------------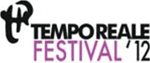 TEMPO REALE FESTIVAL 2012
Questa edizione di Contemporanea è legata a Tempo Reale Festival 2012.
Le due rassegne hanno come comune denominatore uno spettacolo della compagnia Fanny & Alexander.
Il 6 ottobre alle ore 21.30 alla Limonaia di Villa Strozzi a Firenze è in programma WEST, il 3 e il 4 ottobre allo spazioK a Prato è in cartellone EAST.
Tempo Reale Festival 2012. RUMORE ROSA. Il paesaggio delle voci è in programma dal 5 al 13 ottobre a Firenze.
Il festival dedicato alla musica di ricerca torna con un'edizione speciale, la quinta, dedicata alla voce, alla creatività femminile e nuovamente alla scoperta del paesaggio sonoro e dei luoghi nascosti della città di Firenze. www.temporealefestival.it
This Contemporanea edition is linked to Tempo Reale Festival 2012.
These two festivals have a common denominator: a show performed by Fanny & Alexander.
WEST takes place at Limonaia di Villa Strozzi in Florence on 6th October at 9h30 pm, EAST is on at spazioK in Prato on 3rd and 4th October.
Tempo Reale Festival 2012. RUMORE ROSA. Il paesaggio delle voci is on from 5th to 13th October in Florence.
The festival about research music comes back with a special edition, the fifth, dedicated to voice, feminine creativity, to the discovery of the sound scenery and of hidden places in Florence.
--------------------------------------------------------------------------------------------------------------------------------------------------------------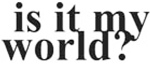 Is it my world?
Dal momento in cui siamo caduti nel tempo, ogni cosa del mondo è ritmo.
Quando si vive in una città siamo immersi nel ritmo che questa città produce, in azioni, pensieri e parole ma anche negli incontri e negli spazi aperti e chiusi che tratteggiano in tutte le direzioni un continuo battito. Una città è fatta da chi la abita, chiunque esso sia. Tra chi la abita poi, ognuno compie un'azione, insegue un'idea, progettata o estemporanea che sia, e l'insieme delle azioni fa si che una città sia viva. Una città è piena di cose da fare, da vedere e sentire. Una città è il luogo del lavoro, dell'incontro ma anche dello scontro, è il luogo dove ognuno dovrebbe trovare il suo posto, dove non ci sono visioni precostituite di cosa deve essere una città.
È per questo, anche per questo, che quando due elementi di questa città, due elementi che producono pensieri e azioni, visioni e parole, si incontrano, anche se in un fuori scala apparente, formano un nuovo nodo di una rete di relazioni. Una naturale relazione che dovrebbe legare tutto quello che succede in una città al corpo di ogni singolo cittadino. Ogni volta è una occasione in più, una ricchezza in più, per tutti quelli che la vorranno cogliere nel presente e nel futuro.
L'incontro tra Festival Contemporanea/Teatro Metastasio e Kinkaleri/spazioK è un nodo appena allacciato tra due realtà con un nesso fortissimo nella relazione che li lega alle visioni e ai pensieri di una scena colma di perturbamenti. Ognuno nella sua direzione nel rispetto che si deve alle necessità e alle funzioni di ognuno. Dove entrambi possono spingere ognuno dalla propria parte: incontrandosi. Crediamo che questo incontro sia necessario per tutti quelli a cui sta a cuore una visione discutibile delle cose, per potersi pensare uguali e diversi nello stesso tempo.
Since we fell into time, everything is rhythm.
When we live in a town, we are absorbed in the rhythm produced by it, in actions, thoughts, words, in meetings, in open and closed spaces that sketch out an uninterrupted beat.
A town is made by those who live there, whoever they are.
And then every citizen performs an action, follows an idea than could be planned or extemporary: the whole of actions makes the town alive.
A town is full up of things to do, to see, to hear.
A town is the place of work, of meeting and clash, is the place where everyone should find his own room, where there are no pre-existing visions of what a town should be.
Therefore, when two elements of this town, which produce thoughts and actions, visions and words, meet each other, even if in an apparent off-scale, they create a new knot in a relationship network.
A natural connection that should link everything happens in town to every citizen's body.
Thus we'll have one more chance, more wealth for who wants to seize it in the present and in the future.
The meeting between Contemporanea Festival/Teatro Metastasio and Kinkaleri/spazioK is a new knot between two realities which have a strict connection in a relationship that links them to visions and thoughts of a scene full of perturbations.
Everyone is on his way, always showing respect towards others' necessities and functions, but he could
draw the others towards his own side: just meeting each other.
We believe this meeting will be indispensable for who really cares about an arguable vision of things, in order to notice how much we are similar and different at the same time.